Mr Vugraph Coordinator moves to London
Walddk
is
Roland Wald
, best known as BBO's Vugraph Coordinator. He's the guy who cajoles and entices experts around the world into showing up at each Vugraph presentation and commentating. When multiple Vugraphs are running, Roland's the guy who tries to keep everything straight. Despite his witticisms at the Vugraph table, Roland is a pretty private person, not the sort to share a heart-to-heart over tea. However, he's entering a new phase in life soon, and has agreed to an interview today.
Official Walddk Picture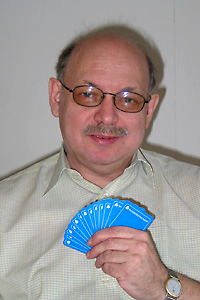 Roland is currently in Copenhagen, Denmark. He's Danish/Swedish, and in grand European style, speaks 5 languages fluently - Danish, Swedish, German, Hebrew, and English. He began his career as a journalist, but Bridge has always been his passion. In fact, he's a Danish Grand Master, and the holder of multiple National and Scottish Open titles. Rather than just leave his hobby at the sideline, Roland utilized his journalistic training, and started a Bridge Center (Bridgecenter Nordsjælland) that grew to 1000 members by 1997. He started to teach in ernest, and also published a Bridge book in 1991 (only available in Danish). A few weeks ago, he handed the club over to
Sac
on BBO, Soren Christiansen, another Danish expert.
Moving to England
Roland is making a significant life change soon - he's moving from his native Denmark to England.
Since I was a boy it has been my wish to move to London some day. Blame it on cricket! Although I was a footballer at Academical Ballclub (AB) in Copenhagen to begin with, I got hooked when I saw all those gentlemen in white clothing. Cricket it is, they told me, and I was fascinated. Yes, they play cricket in Denmark, and yes, I got to play for Denmark U20 before I turned to umpiring for about 20 years, but if you really want to deal with cricket, you've got to move to a place like England, South Africa, Pakistan, India or Australia.

As England is much closer to my native country (only a 90 minute flight), it had to be London where Lord's Cricket Ground, aka the Home of Cricket, is located. I have been to London an estimated 40 times, but I did not live there yet.

An additional incitement is the English language, spoken by Englishmen I'd like to emphasize! I think it's fair to say that I have three passions in life: cricket, bridge and languages. No, women are no longer among them, but you never know what happens :)
Ever since he's stepped down from managing the Bridgecenter Nordsjælland, Roland discovered he has a lot more time on his hand. So he now intends to teach/play pro Bridge in his new home, England. Vugraph Roland is articulate, patient, and humorous, which is exactly what real life Roland is like. He says he intends to teach any Bridge level, or be a pro/am partner at reasonable rates. By the way, Roland can be reached for further information at
roland_wald@hotmail.com
or
075 7028 1862 (+44 75 7028 1862 if you live outside the UK)
.
Walddk and Vugraph
When Roland first joined BBO, BBO was fledging, and one had to wait to form even one table! As BBO grew, a new and interesting thing called a "Vugraph" was introduced in 2001, and quickly grew in popularity. Vugraph (shortened from View Graph) is essentially a "live" reenactment of a Bridge game. Roland had seen real life Bridge Vugraph (important matches sometimes had these for the live audience), but recognized that internet Bridge was a much more powerful medium that could really help increase tournament profiles dramatically.
He started to kibitz Vugraph matches, and at opportune moments, inserted a pithy remark or two. Soon, he invited some expert friends to join him. As Vugraph gained more audience, more organizers contacted BBO to ask if they could have their events shown too (answer is yes, BBO has a very liberal Vugraph policy). But Vugraph is not half as interesting without experts commentating on the play and livening boring intervals with interesting trivia or wit.
Fred
(BBO's founder) had a lot on his plate, so he asked if Roland could help with Vugraph organizing. Roland decided Bridge is his life, and helping to popularize Bridge via Vugraph was something he really believed in, so he agreed without a second thought. That was 8 years ago, and BBO Vugraph has since grown into
the
place to follow Bridge events around the world. Roland and the team of expert commentators were instrumental in increasing interest in Vugraph presentations. Thank you guys!
With a potentially busier schedule as a Teacher/Pro, will Roland still have time to organize Vugraph? He doesn't know as yet, but promises to try his best to balance both duties (and cricket).
One thing few know about Roland is that he's a
cat person.
He's had cats for more than 45 years now. Currently, he has 2 cats, both 3 years old. They are:
Oliver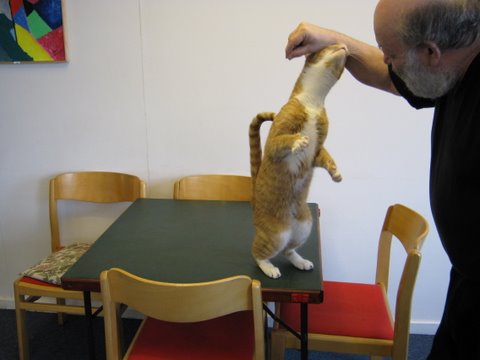 Trine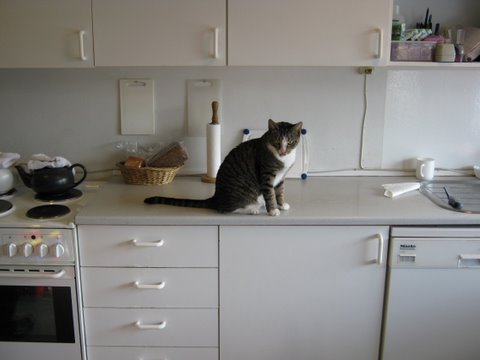 Unfortunately, he won't be able to bring his cats with him to London. The cats are used to wandering around in complete freedom most of the day, which rates to conflict with Roland's impending new lifestyle in a small, 3rd floor flat. Worse, they'll need to be quarantined for 6 months first, which is an eternity for a cat! Roland has found them a new home in the countryside farm instead.
The cats have found a new home, and our
Walddk
will also embark upon a new life soon. Good luck Roland, don't get too busy teaching and forget BBO!